One of our clients Anna has decided (well the ballot decided really!) to run the London Marathon in April 2014. We will be working with her to train the core, strength, endurance, power, balance intervals, fartlek and the occasional rehab session. She will do runs small and large outside our sessions together. Here she will keep updates of her experiences, how she is feeling and how she deals with the inevitable challenges.
New posts appear at the top so head to the bottom and read up!
You can also find Anna's blog here: http://annarunslondon.wordpress.com/
-----------------------------------------------------------------------------------------------------------------------------
Post 14 - Back on it but I need help with pacing - January 19, 2014
It's been a good week. 4 fantastic runs in the bag and managed to stick to my marathon training plan too – and actually exceeded it a little. Who'd have thought it!
I set off this morning with 10 miles in my mind. I had a great run, taking in so many London sights…
I passed the Giraffe's at London zoo: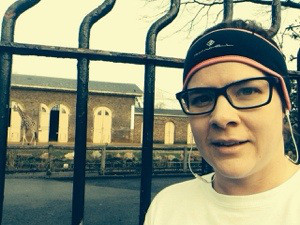 Carried on around and inside Regents Park ( I never knew there was a lake in RP!)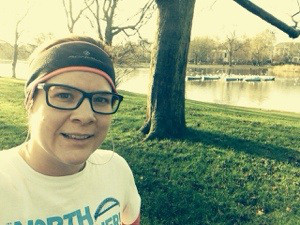 Down past Oxford Circus, Regents Street, Duke of York steps, Whitehall, Big Ben then along the embankment. I passed the Tower Lifeboat station and continued to St Pauls… And just as I got to St Pauls, I checked my Garmin and I was at 10 miles. I was rather overwhelmed and got stupidly emotional. I never thought I'd be able to run 10miles again after my knee problems in 2008. Shows that time does heal.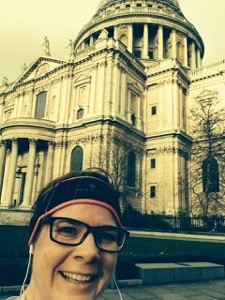 I carried on around the city and finished at Moorgate where I got the tube home. So did somewhere between 11 and 12miles all together in exactly 2hrs. But my pace was so jumpy – somewhere in between 8,46mm and 11,24mm… I need some help to get that right! However, so so proud of myself.
I rewarded myself with an ice bath: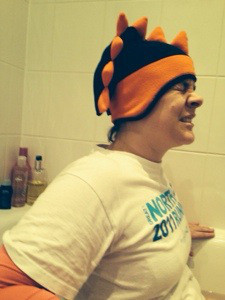 And 2 boiled eggs and toast…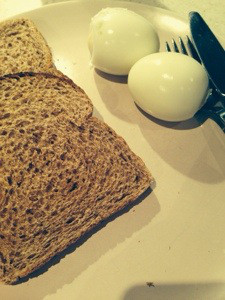 Now I'm busy cooking a roast chicken and I have a date tonight with my foam roller and maybe deep heat!!!!
Tomorrow is a big fat rest day and I can't wait.
Post 13 - Early morning runs surely are the best #vlm2014 - January 14, 2014
I've seen some great sunrises but none more beautiful that the one this morning in Poole…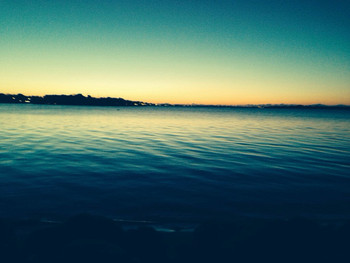 I ventured out this morning at 630am and covered somewhere between 4 and 5 miles (Garmin took a while to wake up!). And it was just the best run I've done. I had loads of energy, and really enjoyed it. And when i got to work, I was a happy person – full of beans! I was hoping that I'd enjoy it after my disaster on Sunday (didn't manage even half of planned distance) … onwards and upwards.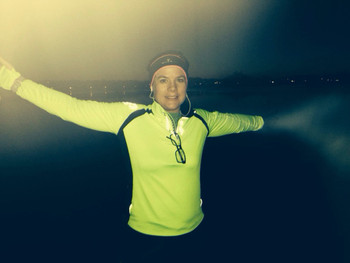 I'm going to do another run early doors tomorrow (then have an all day meeting so need the fresh air pre work). I'm hoping for another peaceful, beautiful morning.
Then I'm back to London in the evening tomorrow. Thursday evening, I'll be doing the NikeTown run prob 4 miles from Oxford Circus. Then intervals on Friday with Damian… And a reward to myself is a Cowshed massage on Saturday. I can't wait. I'm in denial that I need to do a 10 miler on Sunday… Hoping that my new Crouch End running buddy, Katie (found in Twitter!) will be up for coming with me…
Next on the list to sort, is good nutrition when working away from home. It's so hard to eat well when in a hotel… *off too eat some shortbread in preparation of an early run*
Night.
Post 12 - My week so far #vlm2014 - January 9, 2014
I've had a good week up to now. I recovered with few aches and pains from my Sunday long run. Monday had a good PT session – but didn't have much energy. Tuesday was rest day and yesterday 'enjoyed' and early morning jog along the sea front in Poole.
I managed to persuade a friend/colleague to join – then surprised her with 'I want a picture for my blog!'. See below. It was such a beautiful morning as the sun rose, little wind for the first half, massive headwind coming back. And I did get a horrific stitch. I need to sort that out.
I'm going to try 5 miles tonight on my way home – then intervals tomorrow. And gearing up for 9-10 miles on Sunday… Relentless and tiring me out!!!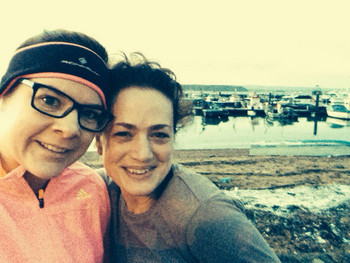 Post 11 - Long run Sunday… #vlm2014 - January 5, 2014Uncategorized
8 miles done and 1000 calories burnt. Here's me directly after finishing (I stretched in the gym afters)…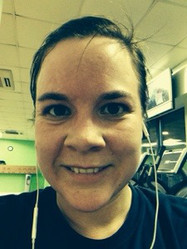 I then went home, had a necessary ice bath, screamed lots. And now I'm getting ready to head out for a mean Sunday Roast. Super proud of myself for sure.
Post 10 - Wet shoes but still loads of determination #vlm2014 - January 4, 2014
I've had a good week so far since the last entry.
Thursday morning I ran to work and it felt good – apart from puking up my espresso and banana half way! Sorry to everyone walking into the tube at Highbury! At that point, heart was saying 'get the tube' but head said 'carry on'! I walked a little then carried on running through the city. So I think about 6miles run. Pretty good me thinks!
Lovely pic of me going over Southwalk Bridge with the Shard in the background!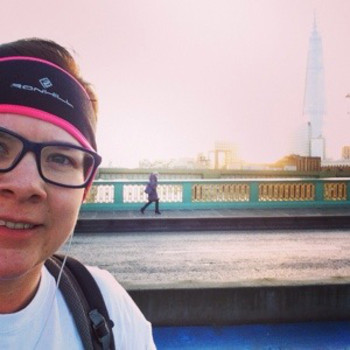 Yesterday was rest day and this morning by husband came out for a (nearly!) 5k. Not sure I'm a good running partner as I like to moan quite a bit and subsequently love the attention when I moan! I treated myself to a smoothie afterwards. It was raining quite heavily and my feet were pretty wet! Smiles all round though when it was over!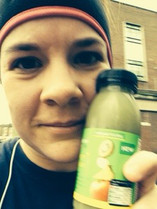 Tomorrow, I'll be doing a 7-8 miler. I promise a report and pic afterwards! Surely marathon training gets easier than this??? Not sure I'm a wet weather runner…
And from tomorrow, I'm doing the Plank Challenge with some twitter pals. Anyone else up for it?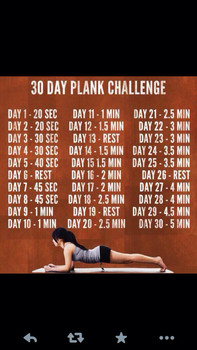 Post 9 - 2013 Over and Out…December 31, 2013
So, 2013 has been fab. I got married to my best friend and soul mate. And I've started running properly again and I'm kind of enjoying it too! Tomorrow, I can say 'I'm running the London Marathon this year'. Seems ever so close and real now! Eeeeek…
I've done 2 runs since my last post. 7.5k on Sunday and a good 5k today. Tomorrow I'm planning on doing the Ally Pally Park Run! We'll see how my hangover is! But I hope to be there at 10am.
I'm definitely feeling stronger every day and looking forward to following my running plan that'll get me over the finish line in April.
Happy new year to all my followers. I hope 2014 brings you great things. If I make it tomorrow morning, I'll post a picture!
Post 8 - Christmas running sucks…-December 26, 2013
Firstly, Happy Christmas to you all. I hope you are all having a wonderful time filled with family and friends…
I've managed to get out a couple if times. Did a good 5k on Christmas eve in 28m which is good for me. And today, Boxing Day, did interval training with my husband! I did, very nearly, bring back up my roast turkey though! Here's the proof…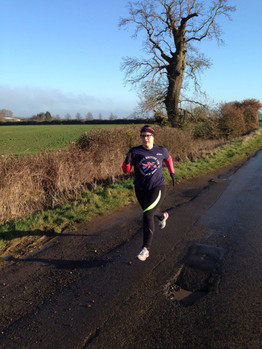 Tomorrow I'll try a short run again. But it's so hard what with all the eating and drinking!
Post 8 - Solid run in Roundhay Park…- December 21, 2013
Beautiful run just now. But think the alcohol last night didn't help one bit… Made me think that I should go dry from 6 Jan till marathon day. Any thoughts or advice on that?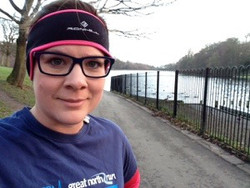 Post 7 - Races are run with legs… Marathons are run from the heart - December 20, 2013
So, whilst most are getting super excited about finishing work for Christmas, I'm getting super stressed about the amount I HAVE to run over Christmas!!! If my marathon quest is to be a successful one, then I have to put the time in over the next 2 weeks… And I have to believe its possible too – and believe from my heart. Saying that I'm currently sat on an East Coast train from KX to Leeds and have just drunk a bottle of Champagne! Running a marathon seems so far off!
So I have 2hrs on a train and now is the time to plan. And I must stick to my plan as I have no one to keep tabs on me. Damian, my PT, is off snowboarding for a couple if weeks. I'm not jealous, much! So, I don't have him to motivate (or check up on) me! I'm on my own. Crap!
It's hard to run when I'm at Mums. Warm house. Good food. Gin practically on tap. And I hate hills. Whenever I see one, I walk. And Mum lives in a valley! I'm screwed!!
So, I'm mentally preparing. And I need to put in a few runs before I go home on Christmas Eve.
I'm going to put in a run tomorrow around Roundhay Park. And Sunday I'll do a long run home from Kings Cross. (I'm hoping my husband will take my bag home, please Dave?!). I'm aiming for 7-8 miles.
One thing probably more important than running over the break, is that I need to make friends with my foam roller again! My aim is once a day for calfs, quads and ITB.
So, when I return to the smoke after Christmas, I'll have done at least 4 runs, and will have spent at least 10 mins a day on the roller.
There's no point talking about nutrition… Clean eating starts again on 6 Jan!!!
Post 6 - Gearing up to get back on it… - December 15
So this week has been a total write off. I was struck down by an awful chest infection last weekend which has meant no running for a whole week.
That coupled with currently being in Munich for the Christmas markets, means I need to massively make time for running this week!!! I have some catching up to do!
I'm planning to do a run tomorrow evening when I get back from Germany, Tuesday morning before work and I have PT on Thursday and Friday. Then I'm on my own over Christmas. Let's see how disciplined I can be as Damian is off playing in the snow with his snowboard!
I'm hoping to stick to the three runs a week along with a long weekend run.
Christmas is always the hardest time to run what with all the food and drink around… I'm going to try really hard I promise!
Post 5 - A great week then a false start… - December 7
So, I have had a great couple of PT sessions this week and had a good, short midweek run on my own. Picture below is of my doing some exercising in the park. One PT session had far too many squats and lunges in – and after intervals too! My glutes were screaming afterwards! No pain no gain as they say.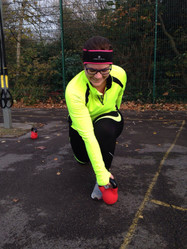 Today, I've really struggled to run. My reward when I got back was to decorate the Christmas tree so loads of incentive. I didn't struggle to get ready or get out. But when I started to run, it was like I had lead weights on both legs, arms, head…everywhere. So, after just a few minutes, I turned back and headed home. Then continued to have a sweet potato and left over lamb for lunch. Maybe I didn't have enough good in me for energy stores? Who knows. Surely it wasn't punishment for the one glass of wine I had last night? My plan was to do a 30min run today. Only 30m, and I couldn't do 10. I think I may need to work on my nutrition…
So my plan is to head out later and try again. Maybe on the treadmill…
Then tomorrow it'll be a 7-8miler. I'll have to do it first thing so I don't think about it too much.
Does anyone else have off days? Or is it just me?
Post 4 - Not such a good week - November 30, 2013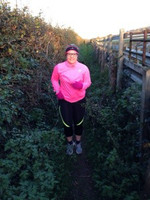 So, this week hasn't really gone to plan…
My interval session on Tuesday was fab. Really 'enjoyed' it (never thought I'd say that). Then work has gone bonkers so not much time or energy to get the running in.
Note to self, I must book in time with myself to run. That's the plan anyway.
I'm in Somerset for the weekend and had a lovely early morning run today. And my husband came with me too which was great. I loved the company. However, I decided fell running would be fun and had a fight with a thistle bush. And the thistles won so i now have a rather cut up leg! Savlon and plasters at the ready.
This afternoon I'm at a great friends wedding. I mustn't drink too much as planning another short trot in the morning. Having read the recent Runners World magazine – champagne isn't that bad for runners. So the plan is I'll stick to that!!! Then maybe a few glasses of red afterwards! Of course mixed with water (who am I kidding!)
Post 4 - First real long run - November 24, 2013
When I say long, I mean 5 miles. And that's long for someone that hasn't run properly for years! And it was pretty much 10m miles too.
And it felt good. And I felt strong.
Apart from the numerous stitches, feeling a little pukey and really needing the loo.
So after I finished, I indulged in a foul recovery protein shake. Good for me apparently (or so Damian says!). That or an egg?! All I really wanted was a Mars bar. I'll save that for my next long run!
This week I have an interval session on Tuesday, a run on Thurs and a long run on Sat morning in Somerset.
Watch this space for updates.
Post 4 - Intervals and Ice Skating - November 23, 2013
So, I'm glad to report that the intervals were good. Verging on fun. But they were pretty exhausting, not least because it was 630 am! After a quick warm up, Damian and I cracked on with a number of short 7/10 effort sprints and finished with 2 x 10/10 effort sprints. It's definitely a good way to wake up in the morning. However, next time I will have a quick espresso beforehand! Picture below is proof!! High vis galore.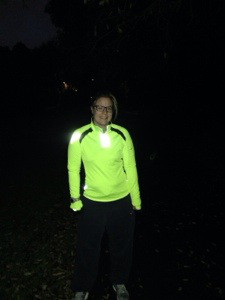 That evening I went to the lovely ice rink at Somerset House. Had loads of fun – but it did mean the next morning I didn't just have sore legs from the running, but I also had sore arms from the repetitive grabbing onto the side to keep me upright!
Aiming for a 5 miler tomorrow. Wish me luck!
Post 3 - Blisters - November 18, 2013
So, I'm realising that I need to conquer a blister problem. Firstly, last week I got one under the arch of my foot. And now I have a corker on my heel. Do I pop or do I sit it out and let it heal? I'm hoping that all the necessary skin will harden over time… Nice topic of discussion eh? Thoughts?
So I ran yesterday and today. Just for 30 minutes each – but it's all about getting back into it. I found it quite easy mentally but physically terrible. So terrible today I got a stitch after 1 min, totally ran out of puff and I had to use my Oyster card and get the bus up the hill!!!! But I guess I'm only a week into training and maybe I'm expecting too much too soon.
PT session tomorrow then interval training on Thursday… Oh heck what have I let myself in for? Intervals. At 630am. Thursday morning. I'm going to be knackered!!! Coffee on tap?!
Post 2 - It's all about rewards… - November 16 2013
So, today is going to be a day filled of fun.
Firstly, I've been out and bought a new pair of trainers. These will be my marathon trainers. Quite a good looking pair of trainers – come April, I'm sure they will look different!
Secondly, I need to get on the foam roller and roll out ITB, calfs, shins and anywhere else I fancy. It's going to hurt. But I'll reward myself afterwards with something tasty. Maybe a square of chocolate…
Thirdly, no run today! I ran yesterday and had a PT session so every bit of me hurts. Legs, bum, stomach muscles. So I'm glad there is no run! But I'll be planning my route for tomorrow. I'm thinking a nice route around ally pally. Then a nice Sunday Roast as a reward.
There seems to be a pattern here. Rewards.
So what should be my reward in April? I'll get thinking.
Post 1 - Day 1 - November 14 2013
And when I say Day 1, I've definitely been thinking about it for a while (like months), but I've struggled mentally to get to Day 1. But today was Day 1. I went for a run, my first run in months – and I now consider that I'm on my journey to the London Marathon in April 2014.
Back in 2008 (those that knew me then) would probably ask 'why again'? For those that don't know, I endured a horrific injury in my knee the week before the marathon but stupidly did it anyway. And needed physio for a whole year to sort me out… And haven't run properly since.
So I was terrified when I got a ballot place… There wasn't even a bit of excitement – I've always thought I had something to prove to myself, but never in a million years thought if be one of the lucky ones!
This year is different to 2008. I'm married for starters (yay!). I'm also a bit older, not as fit and about a stone (or 2!) heavier! So the challenge is so much greater. I've also been mentally struggling with the get-go. I know what it takes to run a marathon and I've been questioning whether I've got it.
I've been seeing a personal trainer, Damian, for a while now. He helped me get in shape for the wedding, and now he's promised to help me achieve my dreams by training with me (and pushing me hard I'm sure) until I get to that start line Blackheath in April. Then the 26.2 miles is down to me and only me.
I'm using this blog to help share my experiences of training through the winter and also all the blood, sweat and tears along the way too. I hope you find it a good read…
And when you are all enjoying a nice Sunday in the warm (over the next few months) – think of me pounding the London streets, training hard so I can achieve my dream.
I'll be fundraising (of course that's what I do for a living!) and this time, it means something to me… I'll post about it sometime (when I've set up my donation page). But let's just say, I'll be running in memory of Dad. Someone who has played such a massive part in my life and someone who I think about every day. Miss you Dad and I promise I'll get to The Mall for you in April.
That's it for now. Hope you enjoy my journey to 26.2. Here we go…
--------------------------------------------------------------------------------------------------------------------------------------
Crouch End Personal Trainer